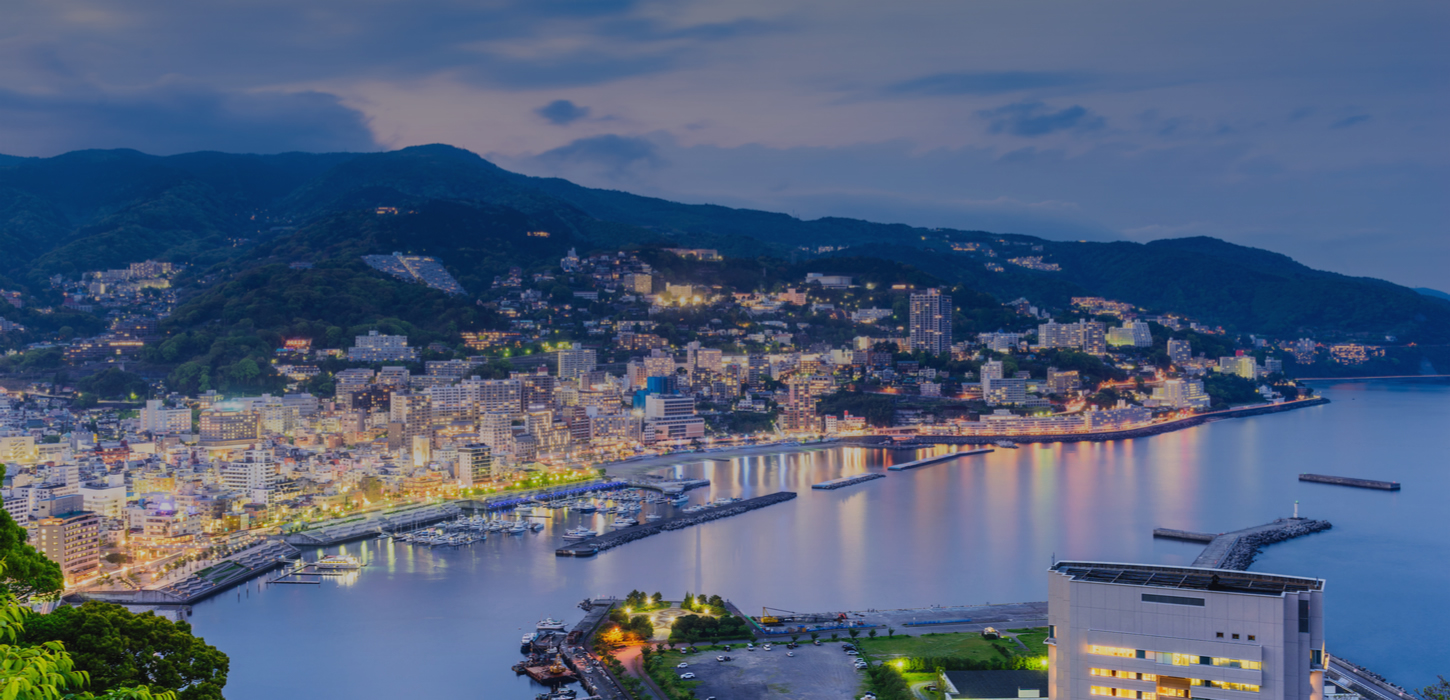 Atami has long been popular as a hot spring resort. The hotel is located in a quiet spot surrounded by Yamate bamboo forest.As a seaside resort and urban district built-up along the coastline, Atami is home to numerous seafood shops and many fresh sushi and tempura restaurants, which serve delicious food that can be enjoyed with Japanese beer and sake.The urban district is a short 10 minute drive from the hotel.
Guest rooms


《The amenities and facilities provided in our guestrooms include: air conditioning, single bed, chair, television, refrigerator, hair dryer, bath towel, face towel, toothbrush, bath/toilet unit (shower incorporating toilet), shampoo and rinse, body soap》Regarding room cleaning・・Although we do not clean rooms that have been booked for a number of consecutive nights, fresh towels can be obtained by request at the front desk.
・2-bed room (room capacity 1-2 persons)
・3-bed room(room capacity 3 persons)
・4-bed room (room capacity 4 persons)
Facilities

・Restaurant・Shops
・Large public baths・Outdoor baths・Private baths・Shops
・Coin laundry service
・Vending machine corner・Tea facilities
・Free private parking
・Massage machines
・Kids room
・Wireless LAN is available in all rooms
Large public baths

Baths are open to guests of the hotel only.
Hours of operation 3:00 p.m-11:00 p.m. 6:00 a.m-10:00 a.m.
・Body soap・Shampoo・Rinse
・Hair dyers
・Large public baths・Outdoor baths・Private natural hot spring baths
(Hydro, heated, filtered circulation type)
※Private baths that accomodate 2-3 persons can be rented for a fee.
Restaurant

The restaurant serves an exclusive breakfast and dinner to guests only.
Restaurant hours of operation.
■Dinner is served from 6:00 p.m. to 7.30 p.m.
■Breakfast is served from 7:30 a.m. To 9:00 a.m.
・Charges will apply to diners who are not guests at the hotel. Advance booking is required.
・Buffet-style breakfast and dinner.
・A wide variety of foods are available.
Hotel hours of operation
Check-in is available from 3:00 p.m until 9:00 p.m. 
Check-out time is 10:00 a.m. (Extensions to this are not possible.)
Other
・In the case of groups booking two or more rooms, it may not be possible for the rooms to be on the same floor.
Access Map
16-53 Nishiyamacho,Atami, Shizuoka, 413-0034

■Access
・By car
Tomei・Atsugi Interchange⇒about 60 minutes via Odawara Atsugi Road
Odawara Atsugi Road・Odawaranishi Interchange⇒Route 1⇒Prefectural Route 20⇒Hotel (about 40 minutes from the Interchange)
・By public transport (Japan Railways Group)
Atami Station⇒Terminal 2 Sasaragadai circulation bus⇒alight at Takenochaya and the hotel is a 5 minute walk approximately
Information (to ensure guests get the most from their trip to Japan)
■Regarding use of the restaurant.
Breakfast and dinner are both served buffet-style.
Please help yourself to your favorites that we have on offer.
Things to be aware of.
・Upon arriving in the restaurant, an usher will show guests to their seats. After that, guests can select their food from the buffet corner and enjoy it at the table they have been allocated.
・Guests can visit the buffet corner as often as they like. Please only take as much as you can eat.
・Please refrain from coughing, sneezing and conversing loudly whilst selecting food at the buffet corner.
・Please take care to mind the queue and wait your turn.
・Please do not return food already taken from the buffet corner. Also, taste-testing food at the buffet corner is prohibited.
■Things to be aware of when using the baths.
・Please refrain from entering the baths if you are not currently in good health.
・Please refrain from bathing immediately after eating **We recommend waiting at least 30 minutes after meals before entering the baths.
・Please avail of the toilet facilites before entering the baths.
・Please do not attempt to use the baths after consuming alcohol.
・Drinking and eating in the baths is strictly prohibited.
・The taking of photographs or recording of videos is prohibited.
・Children must be accompanied by a guardian at all times.
・Please store all valuables in the lockers, or leave at the front desk for safekeeping.
・Please remove shoes at the changing room entrance and place them on the shelves provided.
・Please remove clothing inside the changing room and place in the clothes baskets provided.
・Please be sure to wash well before entering the baths. (Guests are requested to sit when using the showers and not to waste hot or cold water by leaving it running.)
・Please do not carry towels into the bathing area.
・Please refrain from running in the bathing area and swimming in the baths themselves.
・Please refrain from washing clothes in the bathing area, dressing room sinks, etcetera.
・Guests are requested to dry themselves well when moving from the baths to the dressing rooms.